RATES AND OTHER INFORMATION.
"We can customize your trip for you"
Tent Camping

$30.00 Per/site
Up to 3 people

Kayak Rental
Canoe Rental

$35.00
$45.00

Option 2:1 day float including breakfast, dinner & 1 night cabin.

$135.00 per person

Option 3: One day float including 4 meals and 2 nights cabin.

$175.00 per person

Option 4: One day float and one hiking or biking shuttle, 6 meals, 3 nights cabin.

$235.00 per person
All Option prices based on double occupancy and exclude tax.
Group & Mid-Week discounts (excluding holidays),
Advance Deposit Required.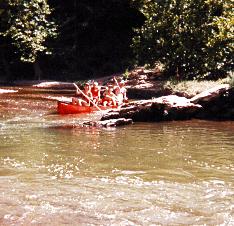 Overnight camping trips include:
Cabin A/C in our private riverfront campground.
Campground facilities include:
Covered dining pavilion, showers with restrooms & group fire ring with complimentary firewood.
Cabins:
10' x 12' wooden shelters, concrete floors, 4 windows, air conditioned, bunks with mattresses, electric outlets and lights.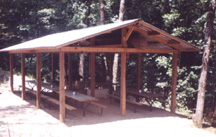 Things You Need to Bring!
Ice Chest with your favorite beverages; hat, sunscreen, swimsuit, towel and personal items. Be sure to bring zip-lock plastic bags or plastic bags to waterproof your personal items.
(Campers need sleeping bags or bedding and lawn chairs).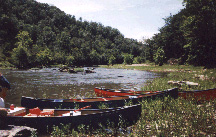 Typical Menu: Beverages supplied by customer
Breakfast
- Eggs, bacon, fried potatoes, biscuits & coffee.
Dinner
- Hamburger, beans & chips.
- Grilled 14-16oz steak, baked potato, vegetable & roll.
"Featuring the fastest water on the Ouachita"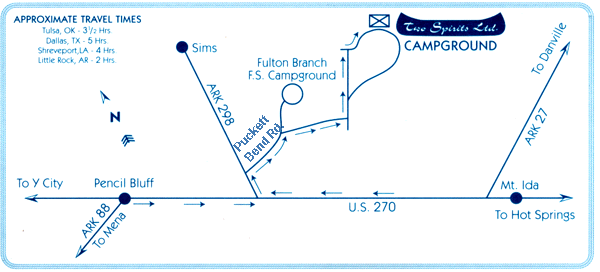 Directions from
Hot Springs:
Take U.S. Hwy 270 W. through Mt. Ida; approx. 5 miles, turn right on Ark 298. Go 1/4 mile & turn right on Pucket Bend Rd, go approximately 2 1/2 miles to end of road. Turn left and follow for 1/2 mile (keep left at Pucket Bend sign) to end of road. Turn right, campground is 200 yds on left.